For security reasons, it is advisable to use different username from the default (admin) and make it more difficult for hackers to attack your blog or website with brute force.
However, changing usernames is not always easy. On the profile editing form for WordPress is a warning that "Usernames cannot be changed":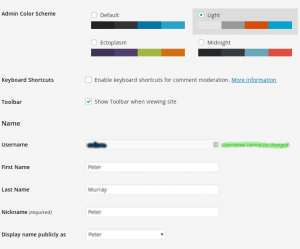 While it is true you cannot change the username with the profile editing form, it is possible to change it in the database. Contact your systems administrator if you don't have this level of access and take care – a wrong database entry could break your whole blog or website.